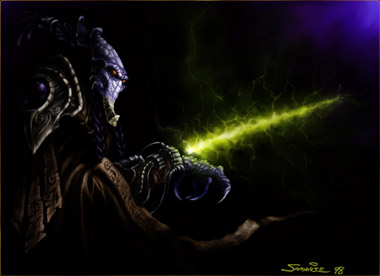 Zeratul
Race:
Protoss
Class:
Enchanted Air Caster
Rank:
Dark Templar
Location:
Comoraw (4,2)
Level:
9
Exp:
854
Hit Points:
8
Magic Points:
15
Attack:
7
Defense:
4
Speed:
3
Flight:
3
Attack Speed:
5
Magic
4
Abilities
Shadows Walk- Makes the apponents shadow attack them for 3 mp.
Psi Enchant - Cures 5 HP for a cost of 3 mp.
Reap the Harvest - Plants grow faster to help crops for 5 mp.
Psi Bomb - For 5 MP drop an area effecting bomb of psi energy on your enemies.